What Is Collagen And How Does It Support Longevity?

Collagen & Longevity
In the world of nutritional therapeutics, collagen has recently become a very popular supplement, garnering widespread attention for its potential to support health and vitality. In this comprehensive blog, we will delve deep into the wonders of collagen, exploring its composition, functions, different types, and the potential benefits of supplementing with collagen to contribute to overall health and longevity.
What Is Collagen And Why Is Collagen Important To Healthy Aging?
Collagen is the most abundant protein in the body and represents 30% of all human protein content. It has a unique triple-helix structure and acts as a key structural component in our connective tissue, helping maintain the health and integrity of our skin, bones, muscles, tendons, joints, and ligaments. Our connective tissue provides support, strength, flexibility, and resilience, allowing us to move with ease.
Besides being produced by our bodies, Collagen is also found as a food source in animal foods, particularly meat, fish, and any animal foods that contain connective tissue. Interestingly, collagen is often extracted from parts of animals that are typically discarded as byproducts of the meat industry, such as the skin, hides, and bones. This sustainable approach not only reduces waste but also makes use of valuable collagen-rich components that otherwise go unused. Collagen can be obtained through supplementation as well which we'll explore more below.
Collagen's Unique Amino Acid Profile
What makes collagen stand out is its unique amino acid profile. Amino acids are known as 'building blocks of life' as they are molecules that all living things need to make protein. Our bodies need 20 different amino acids to function properly, 11 of which we can make in the body, and 9 essential amino acids that we must receive from food. These 20 amino acids combine in different ways to perform vital functions like breaking down our food, growing and repairing tissues, and making hormones and brain chemicals, to name a few.
Collagen is made up of 18 amino acids and is particularly rich in glycine, proline, and hydroxyproline – 3 amino acids that aren't as prevalent in other typical protein sources. Human collagen is proportionally high in these 3 amino acids as well, in roughly the same ratio found in collagen supplements, which supports why collagen supplementation can be beneficial.
Glycine, for instance, is a conditionally non-essential amino acid. While the body can synthesize glycine on its own, it doesn't always make enough to meet the body's needs in times of injury, recovery, or pregnancy and post-partum, for example. Furthermore, modern diets often lack sufficient amounts of glycine, so when the body isn't making enough, most individuals still aren't getting enough support from their diets for this particular amino acid. Glycine is essential for liver detoxification and is a primary building block of collagen itself. There isn't a set recommended dietary allowance for glycine, though 10g/day is a good general estimate for the minimum amount needed. When looking to support your collagen production for reasons described below, getting enough Glycine should be part of the conversation.
How Many Different Types Of Collagen Are There?
Researchers have identified 28 different types of collagen, each playing a specific role in supporting different aspects of health. We will focus on the five types most commonly utilized in nutritional supplements.
Type 1 Collagen: The most common and robust type, provides structure to connective tissues, bones, and cartilage.
Type 2 Collagen: Vital for healthy joints and provides strength and elasticity for elastic cartilage found in places like the ears, ribcage, joints, and parts of the larynx.
Type 3 Collagen: One of the key collagen types, also found alongside type 1 and present in muscles, arteries, organs, and bone marrow. Types 1 and 3 are often in the same areas of the body and work together.
Type 4 and 5 Collagen: Less prevalent in the body but serve essential functions in areas like the eyes, hair, skin, and joint cartilage.
What Are The Different Forms Of Collagen?
Collagen comes in various forms, including as native collagen, gelatin, and collagen peptides. Each form has distinct properties and benefits.
Native Collagen makes up tendons, bones, ligaments, and matrix protein. Its long amino acid chains form a large triple-helix structure.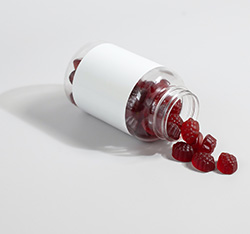 Gelatin is a type of hydrolyzed collagen formed when native collagen is boiled. Boiling native collagen hydrates and denatures it, which separates its triple-helix structure into individual strands. The end product is a gelatinous protein with various health benefits. You can even find simple healthy homemade gelatin gummy recipes online that utilize this gelatinous form of collagen. These recipes often include a combination of gelatin, a fruit juice-like tart cherry juice, and honey, which are mixed together and poured into molds. After a brief refrigeration period, these gummies turn into a nutritious and delicious treat to enjoy guilt-free.
Collagen Peptides are formed when gelatin is further hydrolyzed and broken down into smaller peptides. Collagen Peptides are known for their excellent bioavailability as they are easily and rapidly absorbed with minimal digestive action and are soluble and easily dissolvable into hot and cold beverages. For these reasons, collagen peptides are a popular and effective choice for collagen supplementation. You may have heard of brands like Vital Proteins which offer collagen peptides, or know of people who add collagen into their coffee or smoothies.
What Factors Affect Collagen Production?
Aging
As we age, the body's collagen production gradually declines starting around the age of 30. This causes changes in collagen structure and decreased skin elasticity as collagen in the deep layers of the skin change from a tightly organized network of fibers to more of an unorganized maze. While our bodies alone won't produce the same amounts of collagen as when we were younger, we can supplement with collagen as an effective strategy to support healthy aging and maintain skin integrity, joint health, and bone strength.
Dietary Choices
In our modern diets, most of us no longer consume the various parts of animals that were once part of traditional "nose-to-tail" eating. As a result, our amino acid profiles have shifted. Most of our protein sources, for example, are low in glycine, which affects our ability to synthesize collagen and possibly impair our detox pathways. Think of collagen supplementation as an easy way to better balance our amino acid intake and fill in the gaps in our diet.
Additional Factors
Excessive sun exposure, smoking, alcohol consumption, stress, lack of sleep, and environmental factors can all have detrimental effects on collagen synthesis and accelerate collagen degradation and are important factors to be mindful of to support our body's collagen levels and healthy aging.
What Are The Benefits Of Collagen Supplementation?
Collagen supplementation has garnered notable attention, first becoming especially popular in the beauty and wellness industry to support hair, skin, and nail health. Our skin is the largest organ, and collagen plays a crucial role in maintaining its health and appearance. Collagen supplementation can help combat the effects of aging on the skin, promoting hydration, elasticity, and overall skin texture. The benefits of collagen supplementation can extend far beyond aesthetics too.
How Collagen Supports An Active Lifestyle
Studies suggest that collagen supplementation may have other benefits like improving joint mobility, decreasing joint pain, and promoting recovery when combined with resistance training. Collagen comprises approximately 60% of cartilage, the firm tissue that surrounds bones and cushions them from the shock of high-impact movements. A breakdown in collagen can lead to a loss of cartilage, potentially resulting in joint problems and discomfort. By supplementing with collagen, individuals engaged in physical activities can provide their bodies with the essential building blocks to maintain joint health and support recovery from exercise-induced stress.
Collagen Supplementation And Scientific Research
Numerous studies have explored the effects of collagen supplementation on skin health and joint function, with encouraging results. These studies suggest that collagen supplementation can improve skin hydration, texture, and elasticity. Furthermore, it may aid in alleviating joint pain and promoting overall joint health. One study even suggested that collagen peptide supplementation can improve bone mineral density and bone markers in postmenopausal women. Another study mentions collagen peptide supplementation supporting recovery, decreasing pain, and improving both strength and body composition when paired with resistance training. While the research does seem promising, it's essential to be aware that lots of research in this field may have funding from related industries that benefit from positive results, highlighting the need for non-industry-funded research on collagen supplementation.
How Do I Incorporate Collagen Into My Diet?
A Balanced, Nourishing Diet: Incorporating collagen-rich foods into our diets can be a practical way to support our body's natural collagen production and maintain the health of our connective tissues. While collagen supplementation can provide noticeable support, remember that supplementation is not a substitute for a healthy lifestyle. If you choose to incorporate collagen supplementation, a balanced and nourishing diet along with regular exercise and sufficient sleep will yield the best results for overall well-being.
Bone Broth: One popular and nutrient-rich source of collagen is bone broth. Bone broth is made by simmering bones and connective tissues for an extended period, which allows the collagen and gelatin to be released into the broth. This can be made at home or bought in the store. The best types of store-bought bone broth will have more of a gelatinous consistency when refrigerated, rather than liquid. Look for bone broth that is organic, non-GMO, and contains simple, recognizable ingredients like bones, vegetables, and herbs.
Collagen Peptides: Collagen Peptides are loved for their high bioavailability and easy integration into various foods and beverages. Peptides are more bioavailable than collagen, bone broth, and gelatin because they are pre-digested and are easily absorbed from the digestive tract into the bloodstream. When considering collagen peptides, opt for clean and reputable brands that offer grass-fed bovine collagen and non-GMO options.
Collagen Supports Resilience, Vitality, And Longevity
Collagen's unique composition and vital role in connective tissue health makes it a powerful supplement with wide-ranging benefits. By incorporating collagen supplementation into our lives, along with a balanced diet and lifestyle, we can unlock the potential of this wondrous protein to support our body's natural resilience and promote vitality for years to come.
Resources:
Recommended Collagen Peptide Supplements:
Thorne 'Fit Collagen': Unflavored collagen powder with collagen peptides, plus nicotinamide riboside (NR) for cellular energy and cellular repair. Mix easily in hot or cold beverages of your choice – coffee, smoothie, etc. About $50 retail/month. *Can purchase through our office at 10% off retail.
Designs for Health 'Whole Body Collagen': Unflavored, contains a unique blend of 3 patented collagen peptides. Mix easily in hot or cold beverages of your choice. About $65 retail/month. *Can purchase through our office at 10% off retail.
Rootganics 'Total Fem Collagen': Designed for women by a woman. Collagen Types 1 – 5, plus Tryptophan and L-Theanine for neurotransmitter support. Around $50/month, can be purchased online here.
Vital Proteins 'Collagen Peptides': Unflavored, Types 1 and 3, plus hyaluronic acid and vitamin C. About $50 retail/month, can be purchased online here.
Garden of Life 'Grass Fed Collagen Peptides': Unflavored, Types 1 and 3, plus 1.5 Billion CFU probiotics for digestion. About $50 retail/month. Can be purchased online here.
Note: if you are looking for more of a 'creamer' consistency for coffee – some of these brands offer flavored creamer options of collagen peptides as well.
References:
Collagen. Harvard. T.H. Chan School of Public Health. The Nutrition Source. May 2021.
Khatri M, Naughton RJ, Clifford T, et al. The effects of collagen peptide supplementation on body composition, collagen synthesis, and recovery from joint injury and exercise: a systematic review. Amino Acids. 2021;53(10):1493–1506.
Al-Atif H. Collagen supplements for aging and wrinkles: a paradigm shift in the field of dermatology and cosmetics. Dermatol Pract Concept. 2022;12(1):e2022018.
Cristiana P, Suzane L, and Steffen O. Significant Amounts of Functional Collagen Peptides Can Be Incorporated in the Diet While Maintaining Indispensable Amino Acid Balance Nutrients. 2019 May; 11(5): 1079.
Jeff Bland, Ph.D., Ayla Barmmer, MS, RDN, LDN, Shiloah A. Kviatkovsky, PhD. Exploring the Mechanisms of Action of Collagen Peptides over the Woman's Health Continuum by Personalized Lifestyle Medicine Institute
Maggie Chandler. Thorne. October 2022. The 5 Most Common Types of Collagen – the Body's Most Abundant Protein
https://www.hvlongevity.com/wp-content/uploads/2023/08/collagen-4wtxPhvQZds-unsplash.jpg
500
1400
Chloe Many & Sheryl Leventhal
https://www.hvlongevity.com/wp-content/uploads/2023/07/HudsonValleylongevityMedicine_Logo_v2-color-corrected-300x41.png
Chloe Many & Sheryl Leventhal
2023-08-09 14:55:34
2023-08-09 15:02:23
What Is Collagen And How Does It Support Longevity?