Revisiting Zone 2 Training: Why Is Zone 2 Good For Longevity?

The Benefits of Zone 2 Training Over High-intensity Interval Training (HIIT)
One of our recent exercise blogs focused on cardiorespiratory fitness and the concept of VO2 max and introduced the practice of high-intensity interval training (HIIT). Interval training should be the final element deployed in a well-rounded exercise program, once stability, resistance exercise, and zone 2 cardio are in place. High-intensity, or burst training, done correctly, has particular benefits for certain competitive sports and can improve our peak output, or VO2 max.
However, if done excessively, chronic, repetitive, high-stress, high-output training can cause a myriad of symptoms (called "overtraining syndrome"), and can even cause heart damage and shorten survival. This week we want to circle back to zone 2 training (low intensity, long duration cardio) to review the benefits, connect zone 2 to longevity, and remind you that if you are truly in zone 2, you will avoid the overtraining syndrome even at 300+ minutes per week.
What Is Zone 2 Training?
Zone 2 is the best starting point for a new or returning exerciser, but it is also the foundational training for an elite athlete. Every professional and elite athlete spends 80% of their training time in zone 2 practice whether it's running, cycling, swimming, or rowing. Their zone 2 is certainly different than ours, for example, an elite cyclist could bike up a 10-degree mile-long hill and still remain at their zone 2 heart rate, while a recreational cyclist might experience it as a zone 5 interval (very high effort) and fatigue quickly, having to walk some. Your zone 2 is completely personal to you! See https://www.polar.com/blog/running-heart-rate-zones-basics/ for a more complete overview of zones.
To appreciate the different effects of each level of exercise, we have to begin with the mitochondria and their key role in health and longevity. Mitochondria are "organelles" or mini-structures, found inside cells, that break down various fuels and put out energy, in the form of a chemical known as "ATP". They are truly the powerhouse of the cell. Mitochondrial health is inextricably linked to metabolic health (whether we are resistant to insulin and able to clear dietary glucose efficiently) but importantly, mitochondrial loss of function is a known hallmark of aging. The more mitochondria the better, and the more efficiently we edit out the used-up, damaged, "geriatric" mitochondria, the better our mitochondria can work to fuel us. At different energy demand levels, the mitochondria will utilize specific ratios of fuels. Mitochondria are equipped to burn fats, carbohydrates, creatine phosphate, and lactate. When we perform at zone 2 long enough, usually at least 30 minutes, the body is maximizing fat stores as fuel. At this level of work, we are burning some carbohydrates, a lot of fat, and hopefully recycling a little bit of lactate waste and using it up. In fact, the threshold between zone 2 and zone 3 is where we use proportionally the highest percentage of fat compared to glucose. The inflammation and stress-associated metabolic products we generate are easily handled by the body. Since zone 2 does not create excessive lactate or inflammation, we should be able to repeat zone 2 within 24 hours without incurring muscle soreness, delayed fatigue, sleep disturbance, or any of the problems associated with overtraining.
Training in zone 2 will improve performance in all the zones above it, while training in zone 4 or 5 will not improve zone 2 performance, nor will it increase the mitochondrial numbers dramatically. There is a common saying in coaching: train slow to go fast. But even if our goal is not to race, or to achieve a personal best, but rather to improve our mitochondrial health, our metabolic health, and live a long healthful life… zone 2 is the foundational tool in our exercise toolkit. Zone 2 training has been documented to increase mitochondrial numbers up to 50% in a very short time frame, even within a few long sessions.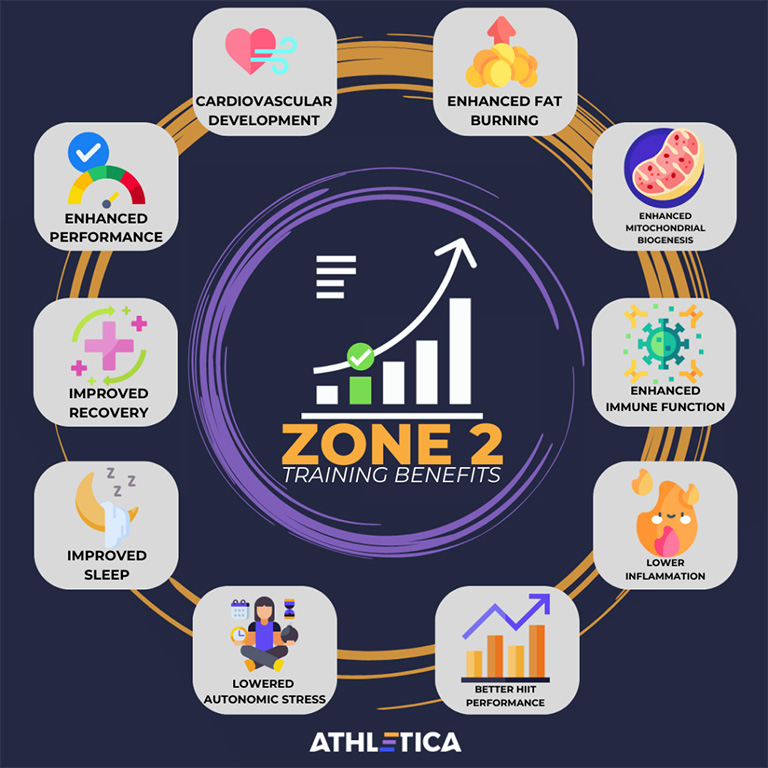 ATHLETICA Image Credits: See original image & article at https://athletica.ai/zone-2-training-benefits-performance/
How Do I Know I'm In Zone 2?
In zone 2 you should feel that you can continue for an hour or two and not feel that you need to stop due to fatigue. An effective zone 2 session typically begins with a 3 to 5-minute warm-up period, which can be simply a slower version of what you are planning to do. Other options are dynamic stretching (such as walking straight leg kicks or walking lunges), high knees, jumping on a trampoline, jumping jacks, or jumping rope. The goal of the warm-up is to elevate the heart rate slowly and steadily, raise your core temperature slightly, and allow cortisol and adrenaline to start to flow slowly, without an abrupt jolt to your system.
It is highly recommended to monitor your heart rate (HR) in a way that you can periodically check it. While we love the OURA ring for sleep monitoring, it does not give immediate and visible HR feedback. We recommend a fitness watch or chest strap that reads out on your phone. How do you know your personal zone 2? One way to know is to do a VO2 Max test which will indicate the heart rate parameters for all the zones (based on fuel use as measured in the breath gases). Another way is to check a fingerstick lactate level at a pre-determined work output and make sure. We offer a lactate-check zone 2 coaching session at our office, performed on a stationary bike as part of our Fitness for Longevity service.
How Do I Calculate My Personal Zone 2?
However, without formal testing, there are two formulas that are often used to find your estimated zone 2 heart rate. One formula is called the Maffetone 180 formula, referenced here. Another way to calculate zone 2 is to figure out the maximum heart that you can achieve, either through an intense (brief) session on a bike, rowing, or sprinting, and either take 70% of that number or use the calculation called the HR "reserve" method.
The HR "reserve" method starts with the Tanaka equation: your HR max would be 208 – (.7 x your age). You can also use this online Maximum Heart Rate Calculator. Take this number and subtract your resting heart rate (taken 1st thing in the morning). This difference is your "reserve", meaning lowest to highest HR span. Add 60% of this "reserve" number to your resting HR to get your bottom level of zone 2, and 70% of this number added to resting HR to get your top-level zone 2. If you are recovering from a recent illness, new to exercise or have diabetes or prediabetes, you might have to subtract 5 or even 10 beats per minute. Once you have guessed at your zone 2, you still need to observe your heart rate and your perceived effort. In zone 2 you should be able to continue to breathe through your nose for the most part, and someone trying to hold a conversation with you should be aware that you are moving, however, you should still be able to speak and finish a sentence (although it might be a shorter sentence!). Once you notice that intermittently you are sighing or taking a deep breath, or sometimes your mouth is opening to get additional air, you are likely right at the cusp of zone 3. This is the sweet spot of zone 2.
The Magic of Zone 2: What Zone 2 Is And Is NOT
Many of our patients tell us they are doing their zone 2 when they are walking their dog, cleaning their house, at a Pilates YOGA or Zumba class, or walking with a friend for an hour. When a heart rate monitor is used, many of these activities are actually at a zone 1 level (50-60% of max heart rate). This means they are not technically "exercise", and would fall into the scope of "activities of daily living". While moving slowly is preferable to sitting, and certainly has benefits, zone 1 efforts do not produce the mitochondrial effects and anti-aging effects we are seeking.
On the other end of the spectrum, many cyclists or runners feel that they are hitting their zone 2 outdoors on their regular outings, however when monitored, they are drifting into zones 3 and 4, unconsciously, with hills or just boredom, which then tires them in a subtle way. Conditioned athletes may not even notice the increased effort but then they eventually drift down into zone 1 to recover their breath. They might be cycling for 1 hour but only technically in zone 2 for 15 minutes. Sports like tennis or pickleball, again beneficial in terms of general movement, brain stimulation, and social engagement, will usually not meet the criteria for zone 2, having too many stops and starts.
The magic of zone 2 – forcing mitochondria to divide and multiply, and forcing the destruction of older, damaged mitochondria (called mitophagy) – requires a sustained effort at a specific work level, usually at least 35-40 minutes. For a person who has limited time, for example, 75 minutes a week, it would be better to do two zone 2 sessions at 35 minutes each rather than 5 sessions of 15 minutes.
How Does Longevity Benefit From Zone 2 Training?
Improving mitochondrial health and numbers with low-intensity training will improve blood flow through the growth of capillaries, the tiniest blood vessels that do the last bit of transport of oxygen. As mitochondria increase, insulin sensitivity improves, even when we are not exercising! The largest multi-center randomized trial (Mandsager 2018) of 120,000 participants over 8 years showed dramatic decreases in heart disease, hypertension, diabetes, stroke, and cancer rates in the fittest group of patients. The group with the lowest fitness had FIVE TIMES the risk of death over the study period, meaning that being unfit is a more significant risk factor for early mortality than even smoking!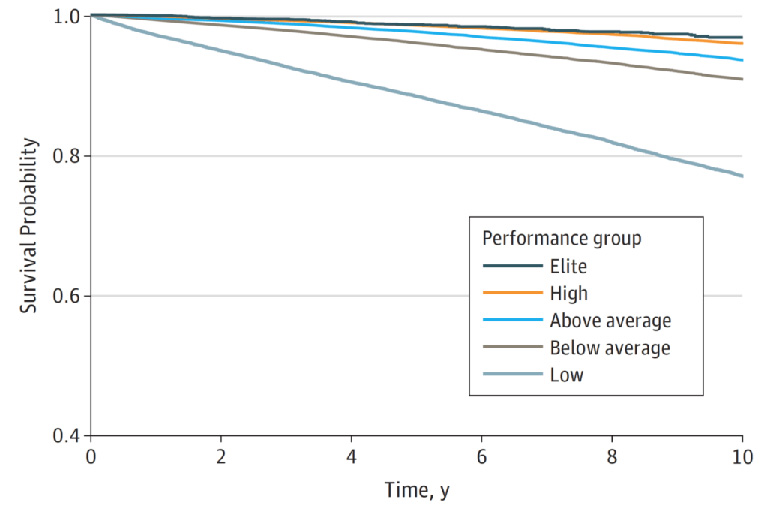 Patient survival by performance group. (Mandsager et al., 2018)
Peter Attia Image Credits: See original article at https://peterattiamd.com/how-does-vo2-max-correlate-with-longevity/
Long-Term Zone 2 Training: How To Maintain And Sustain Zone 2 Training Program
We always encourage patients to build an exercise program that they can sustain for the long term. The health benefits of zone 2 training will accrue to those who are consistent, but not necessarily perfect. There are always vacations, busy work weeks, and family needs that will interrupt our best-laid plans. We suggest you treat these periods as normal and not detrimental, and use the opportunity to move your body in a different way than you usually do. These weeks can be used to do stability and balance work, find time for a sauna somewhere, or figure out how to do some basic body weight moves in your bathroom (10 squats before and after you brush your teeth and before and after your shower!).
We have a handout of "exercise snacks" that you can do at your desk. It is beneficial for your nervous system and endocrine system to occasionally have this downtime, a nice break from the routine. If you are monitoring your HRV (heart rate variability) in the morning on an OURA ring, WHOOP device, or The Body Battery feature on your Garmin watch, you may see nice improvements in your numbers during these periods. It is helpful for the nervous system to see a short period of time where there are no adrenaline and cortisol bursts and the nutrition (fuel) is not always being pulled into the muscle first.
Please view the resources below which have been curated to explain more in depth all the concepts covered here, and get out there and move (but not too fast!).
Resources
Podcasts:
A good podcast focusing just on zone 2, interview with Phil Laursen, elite coach https://podcasts.apple.com/us/podcast/the-emergence-and-benefits-of-zone-2/id1445509665?i=1000613365424
Videos:
TED talk by exercise physiologist, "..train like the world's best endurance athletes" by exercise physiologist Stephen Seiler: https://youtu.be/MALsI0mJ09I?si=HezELcUDALQDrvRQ
Articles:
Best practice for training intensity in Endurance Athletes https://journals.humankinetics.com/view/journals/ijspp/5/3/article-p276.xml
Athletes: fit but unhealthy? By Phil Maffetone, Ph.D., important thought leader: https://sportsmedicine-open.springeropen.com/articles/10.1186/s40798-016-0048-x
Multicenter trial looking at fitness levels and all-cause mortality: https://jamanetwork.com/journals/jamanetworkopen/fullarticle/2707428
Nice review of overtraining syndrome, symptoms, and prevention: https://www.ncbi.nlm.nih.gov/pmc/articles/PMC3435910/
https://www.hvlongevity.com/wp-content/uploads/2023/09/BLOGzone2-gerardo-ramirez-_e8GDRajDhU-unsplash1400x500.jpg
500
1400
Sheryl Leventhal, MD
https://www.hvlongevity.com/wp-content/uploads/2023/07/HudsonValleylongevityMedicine_Logo_v2-color-corrected-300x41.png
Sheryl Leventhal, MD
2023-09-14 17:55:47
2023-09-20 18:05:50
Revisiting Zone 2 Training: Why Is Zone 2 Good For Longevity?